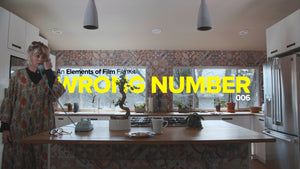 Elements Of Film
Wrong Number
Sale price Price $19.95 Regular price Unit price / per

Who is Snuggles?
A woman receives a strange phone call. 

"Wrong Number" is a fun and quirky FilmKit starring Jani Stier! 

Choose from different Shots with different Camera Angles, Lighting and Alternate Takes. Dialogue sound is included in the video files. Comes with all the sound design and music files to give you the freedom to be creative!
This FilmKit allows you to make the creative choices and edit the story the way you want!
Become a better editor with Elements of Film!

WINDOWS 10 USERS: You'll need to use 7-Zip to unzip and open the FilmKit once it's downloaded.
ELEMENTS OF THE FILMKIT:
Over 35 HD video clips | Over 60 minutes of footage.
Includes all Music and Sound Design files.

Panasonic VLOG color space 
Easy Instant Digital Download
Zip File Size: 7.8 GB